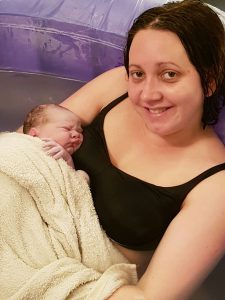 At my first midwife appointment the first question I was asked was where would you like to give birth… it threw me. There were options? My response was 'well its my first baby so hospital'.
I didn't think much more of it but as my pregnancy went on I started to research home birth, and it sounded like a good option. I really dislike hospitals & avoid medical intervention where possible. I was determined that i would have a natural birth and thought it would be more achieveable at home. Of course no one else seemed to agree! My husband was concerned for my saftey & my Mum even more so. Luckily as we attended midwife appointments my husband started to see the benefits & we made the decision to go for it.
I'm not going to lie here, I did worry, course I did. Baby was back to back which added to my worry. But the minute I went into labor & the midwife arrived at our house all worry went out the window – they made me feel safe.