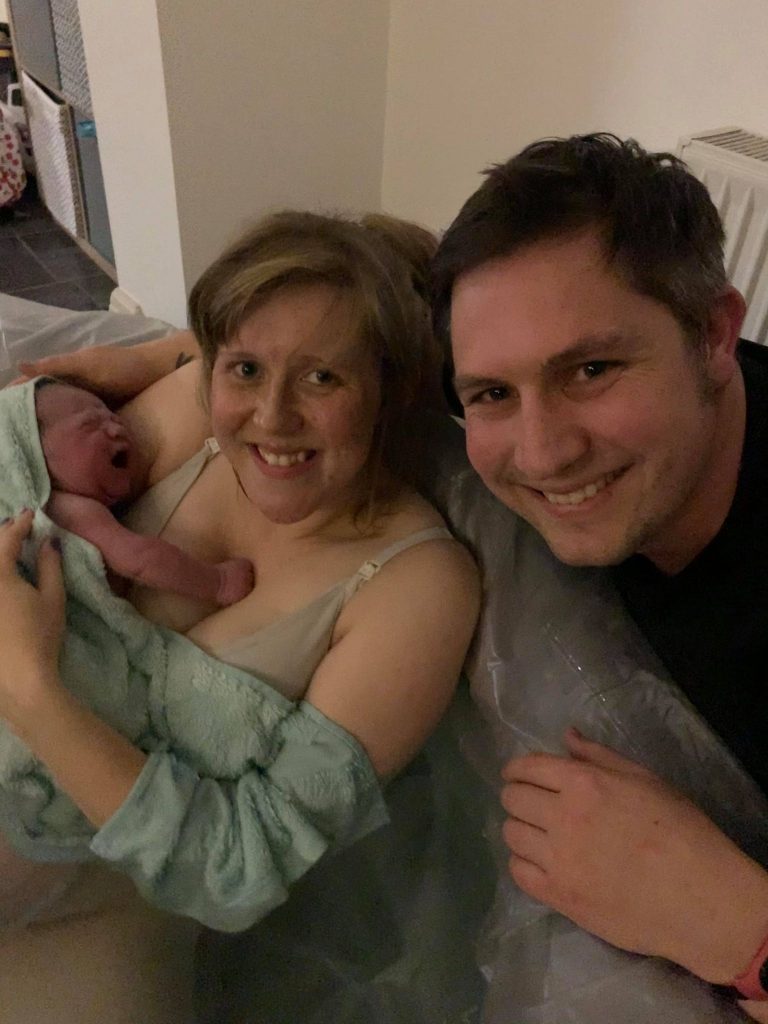 STP
Known baby boy (Evan Thomas)
2:56am
8lb 14oz
Planned home & water birth
Tens machine
3 hours 56 minutes total labour
I'm still in awe at how my body and my baby knew exactly what to do and I'm so grateful I got the birth I had hoped for
Previous pregnancy & labour. I had my little girl Daphne back in 2018 and due to them suspecting she may have pulmonary stenosis (heart disease) and potentially a stay on the NICU, I was induced on my due date with my waters broken and the hormone drip.
Although this isn't what I had planned, I wouldn't say it was a wholly negative experience as I was able to birth naturally with no further interventions needed.
I do however wish I had completed a hypnobirthing course for her birth though as I thought induction meant I had no further say in my birth meaning I didn't really prepare and felt quite out of control.
After hearing so many good things about the Positive Birth Company and hypnobirthing from friends and with the added bonus of remote learning through lockdown I bought their digital pack and completed this with my partner, Ian.
I focused on the parts of hypnobirthing that I felt would most resonate and work for me (positive affirmations, aromatherapy, breathing techniques and the science) and practiced/used these as I neared my due date.
I got to 40 weeks and felt a bit over it
I'd been doing aaaall the "right things"; dates, raspberry leaf tea, sex etc and nothing was working (of course it wasn't!) so I just decided to have a few days "off" and make the most of the remaining time I had just me Ian and Daphne.
Then on the following Saturday (40+4) Ian took Daphne out for the morning. I had a lie in, a clary sage bath, a final pamper, did some hand expression and had a tidy around.
Then I had a lovely family afternoon, cooked a roast, put Daphne to bed and spent the evening watching The US Office on my exercise ball.
I remember my bump feeling very low and full while cooking tea. As we were going to bed that night I said to Ian "well, that's it. I've done all the 'right stuff' today and nothing, I give up. I'll just have the sweep on Monday and hope it gets things going!"
I then got in bed and felt an involuntary trickle
I second guessed it but then I sat on my bed cross legged and there was a big gush! This was 11pm and I was a bit miffed cause I wanted some rest to be honest!
We decided to let my sister, Lizi, know that things would maybe start in the night but we'd let her know and we packed my daughters bag "just in case" ready for her to be picked up (in the morning we assumed!)
I called the MLU at 11:39 (as previously requested by the home birth team) and they asked if I would go in to be checked as baby wasn't engaged at my last app (38 weeks) and they just wanted to check that there was no risk of cord prolapse.
Lizi arrived to watch our daughter at 12:15 and we set off through thick fog! By this point I was having surges and had started to breathe through them in the car using the Freya app.
We got to the hospital at 12:45 and I was hooked up to the monitor for 20 mins followed by an attempt at a vaginal examination however my cervix was too far back still. Baby was fine and my app was saying I was having 2/3 surges in ten minutes for about 30 second each.
The midwife sent me home and asked me to call back when I was at 3 in ten lasting about 60 seconds each.
In the car in the way home things escalated. My surges really grew in intensity but I managed to focus on my breathing and make a plan with Ian regarding getting Daphne out of the house and getting the pool ready when we got home!
We had really lost some vital prep time with the hospital visit! We returned home and Ian hooked me up to the tens machine, it provided a nice distraction and some pain relief but I think it was just a little too late to be fully effective. I was trying to help with Daphne and getting things set up but I just needed to sit on the toilet in the dark with my headphones in.
Daphne and Lizi left at 1:30am and by 1:50 my app had been consistently telling me I was in established labour for about 15 mins so Ian rang the labour ward and they notified the home birth team.
I continued to labour on the toilet, I just couldn't get comfortable anywhere else. At 2:15am my midwife called to say she was setting off but the fog was very thick where she was so she would be as fast and safe as she could be!
Soon after this I felt the transition "wobble" but recognised it as such and focused on the next surge…. the next surge came and I felt the unmistakable pressure and downwards urge. I must have made a noise at the end as Ian came in to check on me.
I asked how the pool was going and for an update on the midwife and he said that the pool was only about a foot deep (but I could get in if I wanted
no thank you) and the midwife had only just set off.
I decided to stay in the toilet and just continue to up breath! I did this for about 15 minutes but it was getting harder with each surge to control the urge to push!
At 2:30 the pool was finally ready but the midwives weren't here yet so I stripped off and laboured leaning on the side of the pool. I really didn't want to have to get out of the pool again when they arrived so I was holding on as long as I could cope!
At 2:40 both midwives (Helen and Daisy) finally arrived! Helen had been pretty much the only face I had seen throughout my pregnancy so I was really pleased she could attend my birth! I knew that they could hear me and that they knew I was close so I just asked if I could get in the pool.
Helen felt awful that I'd waited as she later said I was so far along there was really no point in examining me! I got in the pool and immediately got on all fours as they both hurriedly got to work preparing for babies imminent arrival!
The midwife checked babies heart with the doppler just once and I said "I think his head is coming". She said, "yes it is, just keep doing what you're doing!" I (think) I down breathed my way through the next few surges (who even knows at this point! I was just breathing as best I could!) and at 2:53 my little boys head was born! I couldn't believe it, I'd been in the pool for ten minutes!
Then 3 minutes later with the next surge I pushed his body out and pulled him up through my legs onto my chest
it was amazing! I felt every sensation and remember every moment!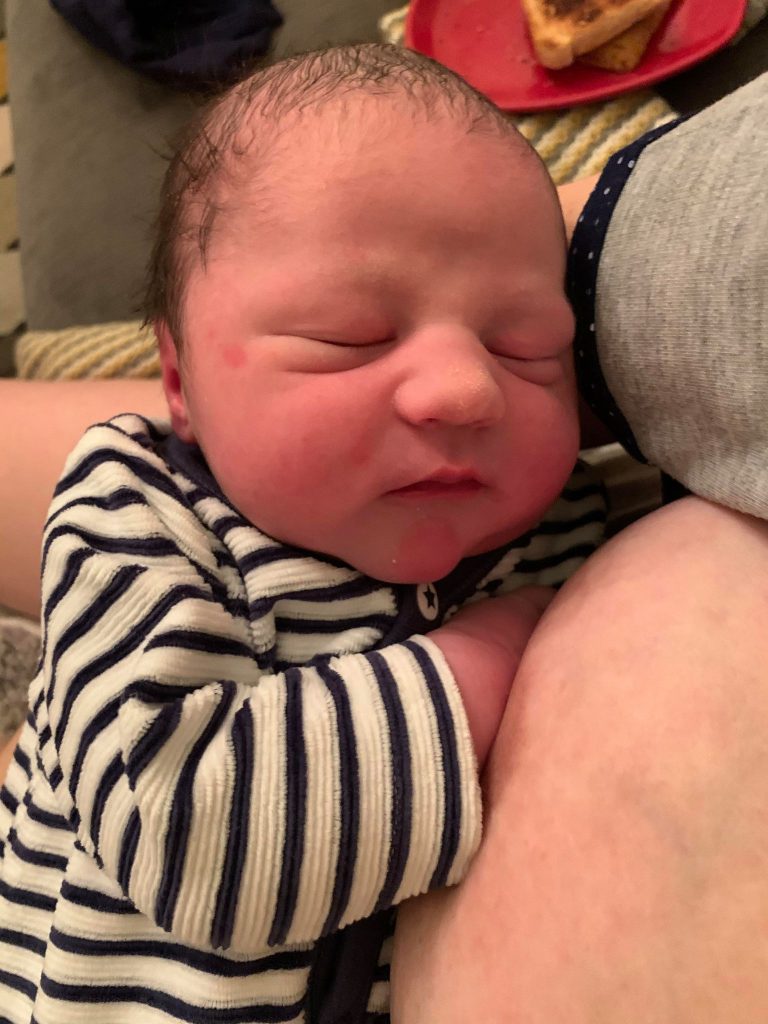 Evan was almost immediately rooting but as I wasn't confident to feed him in the water he made the most of his fist until the cord stopped pulsing and Daddy cut it.
I then moved to the couch and breastfed for a good half an hour. After this time I squatted over the edge of the couch and delivered the placenta naturally. Helen said I only lost between 50 & 100ml of blood and I had a small 2nd degree perineal tear which didn't need any stitches and I've not even noticed since.
I had a couple of paracetamol at this point (the first drug to pass my lips
) as the afterpains were quite intense with breastfeeding! Ian made me a tea and toast and while the midwives finished up their paperwork and observations and gave them much appreciated tea and choccies too! They commented on how calm he had been and said he should become a midwife
(he was very good!)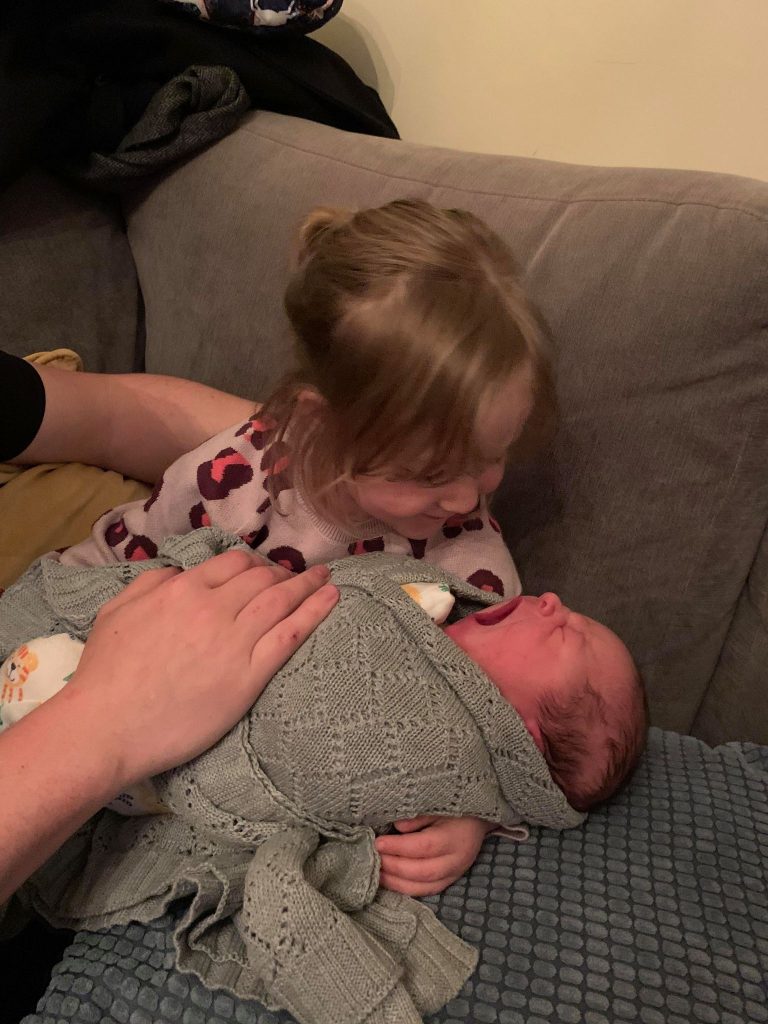 The midwives left us at about 5:30am and it felt so good to be at home already! We were both shocked and amazed at how well everything had panned out and I owe so much of that to hypnobirthing. I am now officially one of those people that will bleat on about hypnobirthing and home births until the end of time!
Thank you for reading my story and good luck to you if you're expecting yourself
every single story I read in the run up to my labour helped prepare me for the wonderful birth of my baby boy
---