It was a shock to find out I was pregnant at the end of October 2015 with my 4th child, I hadn't been with my partner long, we decided to keep the baby. I suffered awful bouts of morning sickness, extreme tiredness, and many weeks not been able to eat properly. Then my partner decided he didn't want a child with me and when I was 11 weeks – a week before Xmas 2015 he upped and left and I dealt with the pregnancy alone. I then lost my job due to being pregnant at 5 months… I knew from that point this child would be so special to me and my other children.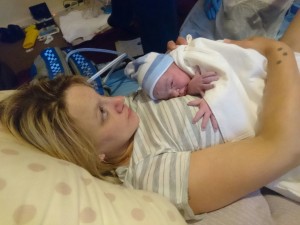 My midwife mentioned I was the perfect candidate for a home birth, as I already had 3 children with no complications and all 3 births were straight forward. I was apprehensive as I didn't know the ins and outs of a home birth. 32 weeks pregnant came and after much thought and research I decided to go ahead with my home birth – mainly due to the fact I had no birthing partner, no family, no proper friends. I was so scared… scared of being pregnant and alone, scared of giving birth alone, scared of having a baby alone. My due date was 4th July 2016 – Independence Day!
37 weeks pregnant my midwife and I confirmed my home birth, a home visit was done to go through everything, no birth plan was done which I was surprised at, but that was the least of my worries. Friday the 1st July came and after picking the children up from school, I was driving home and kept having niggly pains to the point I couldn't sit properly and nearly pulled over, but as I was near home I decided getting home quickly was the best option. the pains got worse and I started having my show… I knew at this point I was in labour. Now my nerves were kicking in, my children were at home, I was lucky enough to have a friend I knew support me through my labour.

I rang the midwife to inform them I was in labour and the contractions were every 5 minutes ish, I could still talk through them and I was having a home birth. I was told to ring back when they got to 3 minutes apart and when I was struggling to talk through them. My contractions slowed over night and I thought it was just a false alarm. I'd had a false alarm with my 3rd labour so was quite frustrated at this point. So the next day after not much sleep the pains came back and I was timing them on my app… they were 5 minutes apart again… then they started getting more frequent and got to 3 minutes after I'd had 4 baths, a long walk around the block, so rang the midwives to inform them and around 5pm ish they came.
Two lovely ladies arrived and did all their checks, but after a couple of hours my contractions slowed again. The midwives also made a huge point of how they had been on shift all day, hadn't eaten and needed sleep, so we all agreed if my labour wasn't progressing enough they would go home. My labour stopped altogether at about 10:30pm. I was so upset because I was so tired from the previous night and thought I would have had my baby by then. The midwives then left to go get some food and sleep and advised me to go into hospital but after they told me I'd just be monitored and sat in a bed this wasn't an option with my children at home so I refused.
So I tried to sleep but was woken up at 3am but the most awful pains… pains that were different from the previous day and night, more intense, ones I couldn't contain myself with, they were all in my back. By this point I'd had no pain relief at all. I rang the midwives again and told them it was certainly the real thing and got the sudden urge to push. The midwives were 35 minutes drive away so the hospital sent the paramedics. I was given gas and air which helped slightly, then the midwives arrived with a student midwife.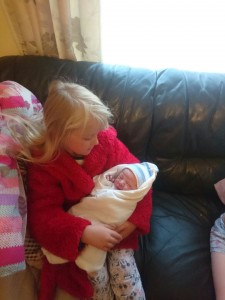 My 2 eldest children were in bed at this point and my youngest child who is 8 years old had slept downstairs with me, bless her. She woke up and to my amazement wasn't scared. She had wanted to see her little brother being born but made it clear to her she can go upstairs at any point, the midwives were great with her too and reassured her and asked if she was OK. At 4:50am my beautiful boy was born at home in the lounge, weighing 9lb 3oz. Then my other 2 children then woke up after hearing the cries. I was surrounded by my children, my birthing partner, the paramedics and the midwives. It was the most amazing experience I could have ever imagined.
The midwives discarded the placenta and helped me chuck out the blankets and get the duvet covers in the wash etc. they waited for me to eat and drink and go to the toilet then left. They must have had about 4 hours sleep themselves, bless them. I was so grateful to them, to everyone, I honestly thought I was going to be alone during the birth and didn't have much to look forward to.
My son is now 11 weeks old and is so happy and thriving so well. Would I recommend a home birth in Hull – most certainly!! You feel so relaxed in your own surroundings, no waiting around for doctors to discharge you etc. Do I wish I'd had home births with my other children – most certainly!! My only annoyance was the midwives trying to make me go into hospital and telling me I didn't have a choice when I actually did. I hope you have enjoyed reading my story and it inspires others to do so!
Diane x