January 27th, 2018
---
Something exciting is happening next week! Hull is getting it's very own Maternity Voices Partnership (MVP).
So what does this mean?
What is a Maternity Voices Partnership (MVP)?
NCT (1) define it as a multi-disciplinary group, of 'parents working in partnership with midwives, doctors, other health professionals and charity reps [to] directly help improve future care to women, partners and babies using hospitals, birth centres and community services. MVPs will also be chaired by a 'service user representative'.
Is it a new?
No not exactly. National Maternity Voices (2) explain further that 'Maternity Voices Partnerships (MVPs) are an innovative development based on an updating of Maternity Services Liaison Committees (MSLCs)'. Multi disciplinary maternity services meetings have been taking place for a long time, but although attendees may have come from both public sector and voluntary organisations, service users weren't always regularly involved.
So why now?
Following the release of the National Maternity Review  'Better Births: Improving outcomes of maternity services in England' (3) in February 2016, a resource pack (4) was made available to help maternity services implement the recommendations made. 'Effective service user co-production' was suggested, recommending the 'establishment of independent formal multidisciplinary committees, … [called] "Maternity Voices Partnerships" (formerly MSLCs), to influence and share in local decision-making'.
What are the Better Births (3) Recommendations?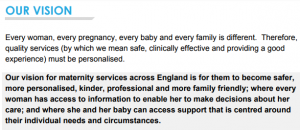 7 recommendations were made:
1. Personalised care, centred on the woman, her baby and her family, based around their needs and their decisions, where they have
genuine choice, informed by unbiased information.
2. Continuity of carer, to ensure safe care based on a relationship of mutual trust and respect in line with the woman's decisions.
3. Safer care, with professionals working together across boundaries to ensure rapid referral, and access to the right care in the right place; leadership for a safety culture within and across organisations; and investigation, honesty and learning when things go wrong.
4. Better postnatal and perinatal mental health care, to address the historic underfunding and provision in these two vital areas, which can have a significant impact on the life chances and wellbeing of the woman, baby and family.
5. Multi-professional working, breaking down barriers between midwives, obstetricians and other professionals to deliver safe and personalised care for women and their babies.
6. Working across boundaries to provide and commission maternity services to support personalisation, safety and choice, with access to specialist care whenever needed.
7. A payment system that fairly and adequately compensates providers for delivering high quality care to all women efficiently, while supporting commissioners to commission for personalisation, safety and choice.
How can I get involved?
If you are pregnant or have had a baby in the last 2 years and would like to help shape the future of Maternity Care Services, or feel very passionate about improving Maternity Care, just telephone the number on the advert above to confirm your place at the event at Rock Up on Tuesday 30th January 2018. If you are unable to make it, keep a look out for further information on how you can get involved!
---
References
(1) https://www.nct.org.uk/professional/mslcs
(2) http://nationalmaternityvoices.org.uk/
(3) https://www.england.nhs.uk/wp-content/uploads/2016/02/national-maternity-review-report.pdf
(4) https://www.england.nhs.uk/wp-content/uploads/2017/03/nhs-guidance-maternity-services-v1.pdf
#MatExp, Baby, Better Births, Birth, Breastfeeding, HeyBaby, HEYHomeBirthGroup, Home birth, homebirth, Hull, Hull Women and Children's Hospital, Involvement, Maternity Voices Partnership, MVP, NCT, Newborn, Service User, Support
|
Comments Off

on Maternity Voices Partnership is coming to Hull!